Case study: Annual reports
When the Washington Regional Transplant Consortium presented its annual reports, the organization wanted copy that was well written, clear, concise and and to the point. The photos needed to relate to the text and the overall design needed to be interesting and pleasing to the eye.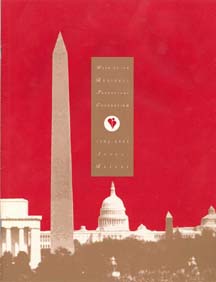 Additionally, the annual report had to reflect an accurate accounting of the organization's financial health and it had to present WRTC's challenges, successes and vision.
Because one of WRTC's marketing objectives had been to create a cohesive publication design that strongly identified with the region, the company chose to use a photograph of the Washington D.C. skyline as the cover of all its publications.
When it's time to report to your constituency, contact The Ghostwriter.
Return to corporate

Everyone has a story to tell. When you're ready to tell your story, contact the Ghostwriter.
CarolynBerry@TheGhostwriter.org

The Ghostwriter LLC

1457 Pilkington Road


Hustle, Va. 22476

(804) 443-6622