Case study: Brochures
The shortage of donor organs is a medical crisis. Research has shown that families are willing to donate the organs and tissues of their deceased loved ones if the families have discussed organ and tissue donation prior to death. Education is the key to sparking these conversations. Washington Regional Transplant Consortium launched a two-part campaign to educate doctors, nurses and the general public about the issues and facts regarding organ and tissue donation.
The Ghostwriter designed and wrote the copy for a self-mailer, eight-panel brochure. Two of the panels provide the donor family perspective and two provide the recipient perspective. One panel is a pocket that contains a family discussion card and seven "step-down" leaflets, which provide facts and dispel myths. The sixth panel provides information about the organization.
To lower production costs, the "shells" of the brochures are the same for both target audiences; only the leaflet copy differs. One set of leaflets targets the medical professionals and the second set targets the general public.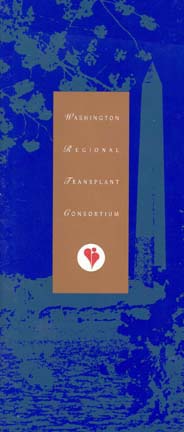 When your company needs a new brochure, contact The Ghostwriter.
Return to corporate

Everyone has a story to tell. When you're ready to tell your story, contact the Ghostwriter.
CarolynBerry@TheGhostwriter.org

The Ghostwriter LLC

1457 Pilkington Road


Hustle, Va. 22476

(804) 443-6622